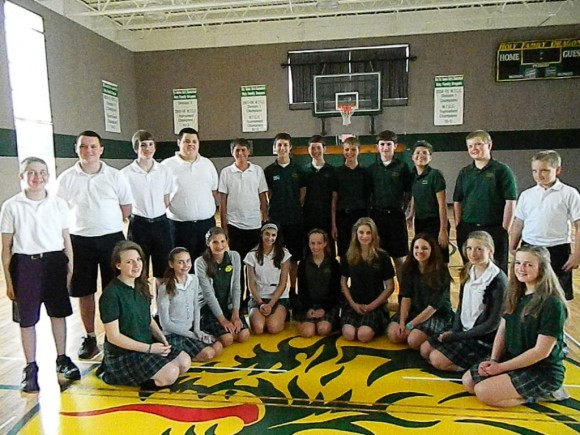 Holy Family School students recently participated in the Youngstown State University English Festival.  A total of twenty-four students in seventh and eighth grade read the required seven novels.  Winners in the festival's competitions were Kara Okular (1st place in Writing Games), Victoria Rucci (Honorable Mention in Writing Games), and Matthew Holsinger (1st place in Renga Riot).
The students are pictured in Holy Family School's gymnasium.
Girls pictured in front, left to right – Anne Alcorn, Hannah Frisone, Olivia Christopher, Sophia Harakal, Michaelina Appugliese, Olivia Morrison, Kara Okular, Isabel Stoeber, and Allison Christopher.
Boys pictured standing, left to right – Robert Kurta, Joe Kelty, Matthew Holsinger, Jimmy Gentile, Andrew Brockway, Christopher Perry, Jay Raymer, Tony Zeno, Patrick Brennan, Adam Yossef, Jacob Ovaska, and Kieran Burk.