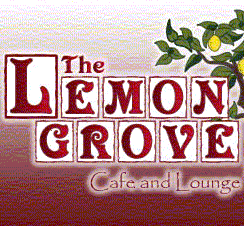 Here's a list of upcoming events at the Lemon Grove in downtown Youngstown.
Thursday (6/14) – Tarra Lynne, Demos Papadimas and Angie DeNicholas team up for a night of folky, rootsy and soulful stylings. Each singer-songwriter brings a unique approach to the acoustic guitar.
Friday (6/15) – The Lemon Grove is excited to welcome local filmmaker Doug Helmick and Chiaro Films' latest project, "Delivery Day." The film will screen at 9 pm, and will be followed by a Q&A session and performances by Dave Buker and the Historians and Braille.
Saturday (6/16) – After downtown Youngstown plays host to the Simply Slavic festival, the Grove will host a free show featuring dance-friendly indie rockers Frends and Booch from Canton.
Sunday (6/17) – This Sunday the Lemon Grove will feature a special afternoon event at 3 pm, a recital by students of Nikki's Violin Lessons, featuring performances classic rock tunes by Led Zeppelin, Queen, Blue Oyster Cult and more.
Other upcoming events…
Thursday 06/14/12
9:00 pm Tarra Layne, Demos Papadimas and Angie DeNicholas at Lemon Grove
http://www.lemongrovecafe.com/event/tarra-layne-demos-papadimas-and-angie-denicholas-at-lemon-grove/
Friday 06/15/12
8:00 pm Delivery Day Release Show. Premiere Screening, Live Music, Free Admission
http://www.lemongrovecafe.com/event/delivery-day-release-show-premiere-screening-live-music-free-admission/
Saturday 06/16/12
11:00 am Lemon Grove, NYC Brunch. Live Music from Dana. Saturdays & Sundays 11am-4pm
http://www.lemongrovecafe.com/event/lemon-grove-nyc-brunch-live-music-from-dana-saturdays-sundays-11am-4pm/2012-06-16
10:00 pm FRENDS and BOOCH
http://www.lemongrovecafe.com/event/frends-and-booch/
Sunday 06/17/12
11:00 am Lemon Grove, NYC Brunch. Live Music from Dana. Saturdays & Sundays 11am-4pm
http://www.lemongrovecafe.com/event/lemon-grove-nyc-brunch-live-music-from-dana-saturdays-sundays-11am-4pm-2/2012-06-17
3:00 pm Y.O. Kiddzz Children's Rock Band Recital
http://www.lemongrovecafe.com/event/y-o-kiddzz-childrens-rock-band-recital/
7:00 pm Classical Revolution Youngstown
http://www.lemongrovecafe.com/event/classical-revolution-youngstown-3/2012-06-17
Tuesday 06/19/12
8:00 am Open Mic. every tues. w/ decapua and lynn
http://www.lemongrovecafe.com/event/open-mic-every-tues-w-decapua-and-lynn/2012-06-12
7:00 pm Trivia Tuesdays
http://www.lemongrovecafe.com/event/trivia-tuesdays-4-2/2012-06-19
Wednesday 06/20/12
10:00 pm Lemonaoke
http://www.lemongrovecafe.com/event/lemonaoke-2-2/2012-06-13
Friday 06/22/12
9:00 pm RALPH RICH'S EP Release @ Lemon Grove June 22!
http://www.lemongrovecafe.com/event/ralph-richs-ep-release-lemon-grove-june-22/
Saturday 06/23/12
11:00 am Lemon Grove, NYC Brunch. Live Music from Dana. Saturdays & Sundays 11am-4pm
http://www.lemongrovecafe.com/event/lemon-grove-nyc-brunch-live-music-from-dana-saturdays-sundays-11am-4pm/2012-06-16
10:00 pm Dopapod w/ Arpetrio: Live @ Lemon Grove!
http://www.lemongrovecafe.com/event/dopapod-w-arpetrio-live-lemon-grove/
Sunday 06/24/12
11:00 am Lemon Grove, NYC Brunch. Live Music from Dana. Saturdays & Sundays 11am-4pm
http://www.lemongrovecafe.com/event/lemon-grove-nyc-brunch-live-music-from-dana-saturdays-sundays-11am-4pm-2/2012-06-17
Tuesday 06/26/12
8:00 am Open Mic. every tues. w/ decapua and lynn
http://www.lemongrovecafe.com/event/open-mic-every-tues-w-decapua-and-lynn/2012-06-12
7:00 pm Trivia Tuesdays
http://www.lemongrovecafe.com/event/trivia-tuesdays-4-2/2012-06-19
Wednesday 06/27/12
10:00 pm Lemonaoke
http://www.lemongrovecafe.com/event/lemonaoke-2-2/2012-06-13
Friday 06/29/12
8:00 pm LethalFX Presents: Hippie-Hop v2.0
http://www.lemongrovecafe.com/event/lethalfx-presents-hippie-hop-v2-0/
Saturday 06/30/12
11:00 am Lemon Grove, NYC Brunch. Live Music from Dana. Saturdays & Sundays 11am-4pm
http://www.lemongrovecafe.com/event/lemon-grove-nyc-brunch-live-music-from-dana-saturdays-sundays-11am-4pm/2012-06-16
10:00 pm Full Moon Canoe/Dan Miraldi & The Albino Winos/The Grease Monkeys
http://www.lemongrovecafe.com/event/full-moon-canoedan-miraldi-the-albino-winosthe-grease-monkeys/
Sunday 07/01/12
11:00 am Lemon Grove, NYC Brunch. Live Music from Dana. Saturdays & Sundays 11am-4pm
http://www.lemongrovecafe.com/event/lemon-grove-nyc-brunch-live-music-from-dana-saturdays-sundays-11am-4pm-2/2012-06-17
Tuesday 07/03/12
8:00 am Open Mic. every tues. w/ decapua and lynn
http://www.lemongrovecafe.com/event/open-mic-every-tues-w-decapua-and-lynn/2012-06-12
7:00 pm Trivia Tuesdays
http://www.lemongrovecafe.com/event/trivia-tuesdays-4-2/2012-06-19
Wednesday 07/04/12
10:00 pm Lemonaoke
http://www.lemongrovecafe.com/event/lemonaoke-2-2/2012-06-13
Tuesday 07/10/12
8:00 am Open Mic. every tues. w/ decapua and lynn
http://www.lemongrovecafe.com/event/open-mic-every-tues-w-decapua-and-lynn/2012-06-12
7:00 pm Trivia Tuesdays
http://www.lemongrovecafe.com/event/trivia-tuesdays-4-2/2012-06-19
Wednesday 07/11/12
10:00 pm Lemonaoke
http://www.lemongrovecafe.com/event/lemonaoke-2-2/2012-06-13
Friday 07/13/12
9:00 pm The Vintage Tour – A Tribute to '90s Hip-Hop
http://www.lemongrovecafe.com/event/the-vintage-tour-a-tribute-to-90s-hip-hop/
Sunday 07/15/12
7:00 pm Classical Revolution Youngstown
http://www.lemongrovecafe.com/event/classical-revolution-youngstown-3/2012-06-17
Tuesday 07/17/12
8:00 am Open Mic. every tues. w/ decapua and lynn
http://www.lemongrovecafe.com/event/open-mic-every-tues-w-decapua-and-lynn/2012-06-12
7:00 pm Trivia Tuesdays
http://www.lemongrovecafe.com/event/trivia-tuesdays-4-2/2012-06-19
Wednesday 07/18/12
10:00 pm Lemonaoke
http://www.lemongrovecafe.com/event/lemonaoke-2-2/2012-06-13
Thursday 07/19/12
10:00 pm Garage Thursdays. a cultivated night of experimental fascinations
http://www.lemongrovecafe.com/event/garage-thursdays-a-cultivated-night-of-experimental-fascinations/2012-07-19
Friday 07/20/12
10:00 pm End Times Spasm Band w/ The Dana Gypsy Jazz Emsemble – Live @ Lemon Grove
http://www.lemongrovecafe.com/event/end-times-spasm-band-w-the-dana-gypsy-jazz-emsemble-live-lemon-grove/
Tuesday 07/24/12
8:00 am Open Mic. every tues. w/ decapua and lynn
http://www.lemongrovecafe.com/event/open-mic-every-tues-w-decapua-and-lynn/2012-06-12
Wednesday 07/25/12
10:00 pm Lemonaoke
http://www.lemongrovecafe.com/event/lemonaoke-2-2/2012-06-13
Tuesday 07/31/12
8:00 am Open Mic. every tues. w/ decapua and lynn
http://www.lemongrovecafe.com/event/open-mic-every-tues-w-decapua-and-lynn/2012-06-12
Tuesday 08/07/12
8:00 am Open Mic. every tues. w/ decapua and lynn
http://www.lemongrovecafe.com/event/open-mic-every-tues-w-decapua-and-lynn/2012-06-12
Tuesday 08/14/12
8:00 am Open Mic. every tues. w/ decapua and lynn
http://www.lemongrovecafe.com/event/open-mic-every-tues-w-decapua-and-lynn/2012-06-12
Thursday 08/16/12
10:00 pm Garage Thursdays. a cultivated night of experimental fascinations
http://www.lemongrovecafe.com/event/garage-thursdays-a-cultivated-night-of-experimental-fascinations/2012-07-19
Saturday 08/18/12
9:00 pm Third Class/Hardluck Heroes/Sexy Pig Divas – Live @Lemon Grove!
http://www.lemongrovecafe.com/event/third-classhardluck-heroessexy-pig-divas-live-lemon-grove/