Paul Jenkins and his mother, Nadyne Herrick, enjoy a dinner together in this undated photo.
John Cutlip – Assistant Editor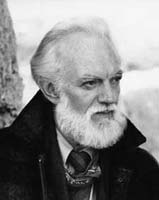 NEW YORK – Paul Jenkins, a celebrated and renown abstract expressionist painter, died June 9, 2012, after a brief illness.
William Paul Jenkins was born July 12, 1923, in Kansas City, Mo., where he was raised. He was the son of the late Nadyne Herrick, former publisher of the Struthers Journal.
Early in life, Jenkins met the great architect and artist Frank Lloyd Wright, who suggested that Jenkins should think about a career in agriculture rather than art. He also visited painter and muralist Thomas Hart Benton and confided his intention to become a painter himself.
In his teenage years, Jenkins moved to Struthers to live with his mother and stepfather, who were running the Journal at the time. After graduating from Struthers High School, he served in the U.S. Maritime Service and entered the U.S. Naval Air Corps during World War II.
In 1948, Jenkins moved to New York City, where he studied at the Art Students League of New York under great Japanese painter Yasuo Kuniyoshi. During that time, he met artists Mark Rothko, Jackson Pollock Lee Krasner and Barnett Newman. In 1953, he traveled to Europe, working for three months in Taormina in Sicily before settling in Paris, France.
From 1955 on, the artist split his time between New York and Paris. His first solo exhibition in New York was in 1956 with the Martha Jackson Gallery, a leading gallery of the time. The Whitney Museum of American Art in New York purchased a painting from his exhibition. In the '50s, Jenkins achieved prominence both in New York and Europe for his early abstractions. Peggy Guggenheim purchased a painting from the artist's studio in Paris in 1959. In 1972, he began to exhibit with Gimpel & Weitzenhoffer in New York.
During the 1970s and '80s, his accomplished paintings were sought after, allowing him to lead a glamorous lifestyle, and noted personalities, such as Danielle Mitterrand, wife of the President of France, were counted among his patrons. Jenkins gained a level of fame when his paintings appeared in the Academy Award nominated 1978 movie "An Unmarried Woman" directed by Paul Mazursky. The film featured a brooding and bearded British abstract painter played by Alan Bates. Jenkins created the eye-catching art in the film supposedly made by the character, and he taught Bates his paint manipulation technique for his acting role.
Jenkins created his abstract paintings by pouring primary colors – red, yellow, ultramarine blue, often with white and/or black – directly only onto loose, unstretched canvas. The pigment was allowed to pool and bleed as he directly manipulated the fabric and guided the paint with a long palette knife or a squeegee. Jenkins described himself as an "abstract phenomenist," and beginning in the 1960s, the titles of all his paintings began with the word "Phenomena." Regarding his paintings, he once said, "I have conversations with them, and they tell me what they want to be called."
Until his death, Jenkins continued to work in acrylic on canvas, as well as watercolor on paper.
His work is found in international museums and collections including The Whitney Museum of American Art, the Guggenheim Museum, the Museum of Modern Art in New York, the Butler Institute of American Art in Youngstown, the Hirshhorn Museum and Sculpture Garden of the Smithsonian Institution, the National Gallery of Art and the Corcoran Gallery of Art, Washington, D.C., the Fogg Museum of Art of Harvard University, Cambridge, the San Francisco Museum of Modern Art, the Carnegie Museum of Art in Pittsburgh, Centre Georges Pompidou in Paris, the Fondation Maeght in Saint-Paul, France, the Stedelijk Museum in Amsterdam and the Tate Gallery in London.
"I try to paint like a crapshooter throwing dice, utilizing past experience and my knowledge of the odds," he said in 1964. "It's a big gamble, and that's why I love it."
Jenkins is survived by his wife, Suzanne, and his daughter, Hilarie Jenkins.
Struthers historian Marian Kutlesa called Jenkins a "fine man" who she spent much time with in Youngstown and New York.
"I will miss the swish of wonderful colors. They seem to breathe," she said. "I certainly will miss him."