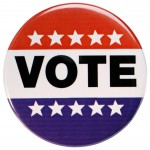 COLUMBUS – With one week to go before Election Day, Ohio Secretary of State Jon Husted released the latest absentee voting data for Ohio based upon an informal survey of Ohio's 88 boards of elections.
As of Friday, Oct. 26, more than 1.2 million Ohioans had already cast their ballots. Of the 1.3 million absentee ballots that have been mailed to voters during the absentee voting period, more than 950,000 have already been returned (71.9 percent). In addition, more than 306,000 voters had voted in person at their board of elections or designated vote center.
Boards of elections are open for voting during the following hours:
Tuesday, October 30 – Thursday, November 1: 8:00 a.m. to 7:00 p.m.
Friday, November 2: 8:00 a.m. to 6:00 p.m.
Saturday, November 3: 8:00 a.m. to 2:00 p.m.
Sunday, November 4: 1:00 p.m. to 5:00 p.m.
Monday, November 5: 8:00 a.m. to 2:00 p.m.
For more information on voting in Ohio, visit www.MyOhioVote.com.