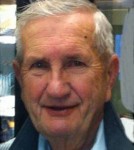 CAMPBELL – Private family services were held Friday, Jan. 17, for Andrew A. Hornyak, 81, who passed away Tuesday, Jan. 14, 2014, at his home with his family by his side.
Andrew was born, Dec. 5, 1932, in Campbell, the son of John and Mary Durkay Hornyak.
He was a 1950 graduate of Campbell Memorial High School and went on to serve his country in the U.S. Navy.
Andrew retired as a welder from the Youngstown Sheet and Tube Co.
He was a member of Christ the Good Shepherd Parish at St. John Catholic Church, the American Legion Post 560 in Campbell, and was involved with activities with his classmates from the Campbell Memorial Class of 1950.
His wife, the former Katherine Mathews, whom he married on May 7, 1963, passed away, July 17, 2009.
He leaves to cherish his memory four children, MaryKay Inghram of Boardman, Andrew J. (Julie) of Waukesha, Wis., Patty (Douglas) Rice of Campbell and John P. (Raquel) of Chesepeke, Va.; five grandchildren, Sgt. James A. Inghram of Dayton, Matthew T. Inghram of Boardman, Douglas W. Rice of Boardman, Julie C. Rice of Boardman, and Private 1st Class, Andrew J. Rice of Okinawa, Japan; five nephews, Billy (Maryann) Pacek of Campbell, John Pacek of Cincinnati, John (Karen) Hornak of Philadelphia, Kenny Sikora of Virginia, and Robert Sikora of Boardman; two nieces, Audrey Sisne of Pensicola, Fla. and Maryann Evanovich of Campbell; a sister-in-law, Anne Hornak of Campbell; a brother-in-law, Joe Sikora of Florida; and several great-nieces and great-nephews.
He was preceded in death by his parents; his wife, Katherine; a granddaughter, Jessica Inghram; a brother, John Hornak; and two sisters, Mary Pacek and Anne Sikora.
The family would like to express a special "Thank You" to All Caring Hospice for the wonderful care that they gave to Andrew, and any monetary donations may be made to All Caring Hospice.
The Hornyak family has entrusted the arrangements of their loved one to the care of the Wasko Funeral Home.
Visit waskofamily.com to view this obituary and to send Andrew's family condolences.