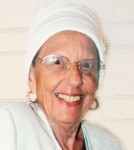 BOARDMAN – Prayers were held Wednesday, Jan. 22, at the Higgins-Reardon Funeral Home Boardman-Canfield Chapel followed by a Mass of Christian Burial at St. Matthias Church for Ann (Catullo) Rostier, 84, who passed away Saturday, Jan. 18, 2014, at Hospice House with her family by her side.
Ann was born Jan. 20, 1929, in Youngstown, a daughter of the late Costanzo and Maria (Marino) Catullo.
Ann attended The Rayen School. She was a meat wrapper for Century Foods and Sparkle Markets for 40 years, retiring in 1989. She worked the election polls at St. Stan's Church for many years.
Ann was an avid bowler and enjoyed bus trips to the casinos and bingo. She worked bingo at St. Matthias and was known to all as "Bingo Annie."
Ann leaves her daughter, Tommie (Frank) Palumbo of Struthers; two grandchildren, Tina (Fred) White of Struthers and Vito Palumbo of Struthers; two sisters, Angeline Stanwood of Struthers and Cecelia Casciano of Youngstown; and a sister-in-law, Mary Ann Catullo of Boardman.
In July, she was looking forward to becoming a great-grandmother for the first time.
Ann was also preceded in death by a sister, Congetta Perfette, and a brother, Dan Catullo.
Family and friends were welcomed Tuesday, Jan. 21, at the funeral home.
Entombment took place at Lake Park Cemetery.