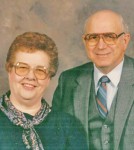 STRUTHERS – Loretta F. Macala, 89, died Thursday morning, Jan. 9, 2014, at Vista Care Nursing Home.
Loretta was born Oct. 26, 1924, in Youngstown, a daughter of Frank and Cornelia Schafer Finger.
She was a 1942 graduate of South High School. Loretta was a Rosie the Riveter during World War II, making airplane wings. Mrs. Macala worked as a Sealer for General Electric for 20 years. She was a member of Beta Sigma Phi Sorority. Loretta was a member of Christ Our Savior Parish and was a president of the Mothers Club.
Loretta loved cooking, especially baking kolachi.
Loretta's husband, Stephen F. Macala Sr., whom she married Feb. 26, 1949, died Dec. 23, 1996.
She is survived by her two daughters, Sandra Zaremski (James Thomas) of Columbus and Mary Daniel of Struthers; two sons, Michael Macala of Columbus and Stephen (Paula) Macala Jr. of Boardman; six grandchildren, Sarah (Keith) Macala-Smetana, Julie Macala (Ian Hopper), James (Jocelyn Yeager) Poloski, Stephen Macala III, Christopher (Jennifer Wilkinson) Daniel and Katy Daniel; and four great-grandchildren, Carter, Corbin, Sierra and Olivia.
Besides her parents and husband, Loretta was preceded in death by her brother, William Finger; and sister, Thelma Kosik.
A Mass of Christian Burial was held at Holy Trinity Monday, Jan. 20. Interment followed at St. John the Baptist Catholic Cemetery.
Contributions may be made to the Struthers Senior Citizen Bus, Payable to City of Struthers, Attn: Mayor's Office, 6 Elm St., Struthers, OH 44471.
Thanks to the staff of Vista Care and All Care Hospice for the care given to Loretta.
Visit beckerobits.com to send condolences.