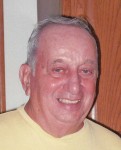 STRUTHERS – Funeral services were held Saturday, Feb. 8, at the Rossi Brothers & Lellio Funeral Home in Boardman, followed by a Mass of Christian Burial at St. Nicholas Roman Catholic Church, with the Rev. Bernard Gaeta celebrating, for Louis T. Cannatti, 83, who passed away Tuesday, Feb. 4, 2014.
Louis was born Nov. 27, 1930, in Youngstown, the son of Louis and Mary (LoNigro) Cannatti.
Louis retired following many years as a mailman with the U.S. Postal Service.
He was a member of Christ Our Savior Parish and a lifetime member of the ARCO Club.
He was an avid golfer and bocce player. He was a graduate of East High School and was a 1982 inductee into the East High Hall of Fame.
Louis proudly and courageously served his country with the U.S. Army during the Korean Conflict.
His wife, MaryAnn T. (Rodik), whom he married Oct. 1, 1955, passed away May 28, 2003.
He will always be remembered by his three sons, Ron (Debi) Cannatti of Michigan, Don (Ruth) Cannatti of Maryland and Lou (Jackie) Cannatti of Poland; five grandchildren, Christina, Angela, Andrea (Brian) Leapley, Maria and Justine; and three sisters, Carmel Leonelli, Antoinette Zamary and Margaret Thomas.
Besides his wife and parents, Louis was preceded in death by two sisters, Elizabeth Safarek and Nancy Simione; and five brothers, Rocco, James, Joseph, Dr. Dominic and Phillip Cannatti.
Friends were welcomed Saturday morning, Feb. 8, until the time of services at the funeral home.
Louis was laid to rest at Calvary Cemetery, where his dedicated service to our country was further recognized and honored by the great men of V.F.W. Post 9571 of Ellsworth.
Family and friends may visit the Book of Memories at rossifunerals.com to view this tribute and to send condolences to Louis' family.