Browse:
Home
/
agriculture
By Hometown Journal on April 3, 2013
CANFIELD – Healthy young people, healthy economies and healthy communities will be the focus of a Farm to School workshop in Canfield. Bridging the Gap From Farm to School: Connecting Schools to Local Fruit, Produce and Food will be held in Canfield on Thursday, April 18, at the Mill Creek MetroParks Farm in Canfield.  The farm […]
Posted in Community, Local | Tagged agriculture, Canfield, Ohio | Leave a response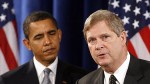 By Hometown Journal on June 6, 2012
United States Agriculture Secretary Tom Vilsack today announced funding for 52 distance learning and telemedicine projects that will increase access to health care and enhance educational opportunities in 29 states.
Posted in National, News | Tagged agriculture, dairy, farming, Obama, USDA
By Hometown Journal on May 21, 2012
COLUMBUS, Ohio — Ohio Farm Service Agency (FSA) State Executive Director, Steve Maurer, reminds foreign investors, who buy, sell or hold a direct or indirect interest in U.S. agricultural land must report their holdings and transactions to the U.S. Secretary of Agriculture.  Failure to timely file an accurate report can result in a penalty with […]
Posted in State and Regional | Tagged agriculture, farm, finances, foreign investments, investments, Ohio Farm Service Agency, transactions