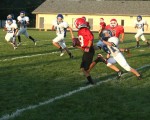 By Hometown Journal on October 8, 2014
Posted in Football, Sports | Tagged Seventh-grade, Struthers, Wildcats, Youth Football | Leave a response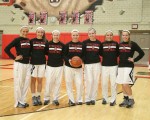 By Hometown Journal on January 16, 2014
Frank Marr Photography. John Cutlip – Assistant Editor STRUTHERS – The Struthers Lady Cats are keeping it in the family, while on and off the court, three sets of sisters count on each other to play at their best when it counts. Ashley, Holly and Caitlin Kane; McKenna and Karly Shives; and Halle and Torre Smrek […]
Posted in Basketball, Community, Local, News, Sports | Tagged basketball, High School Sports, lady cats, Ohio, Struthers, Struthers High School, Wildcats | Leave a response
By Hometown Journal on December 5, 2013
Frank Marr Photography. FOUNDATIONS OF THE GAME: The Struthers High School varsity girls' and boy's basketball teams played against Brookfield and Youngstown Christian Academy, respectively, Wednesday, Nov. 27, as part of the Struthers Foundation for Educational Excellence games, which honored the late coach Doris Lancy. The Wildcats boys won 55-39, while the girls won 54-25.
Posted in Basketball, Sports | Tagged basketball, Struthers High School, varsity, Wildcats | Leave a response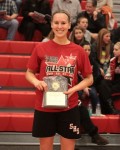 By Hometown Journal on April 3, 2013
Struthers senior Ashley Hefferon had two great nights last week and was named MVP twice in two days.
Posted in Basketball, Sports | Tagged Ashley Hefferon, basketball, High School Sports, lady cats, Mahoning County, SHS, Struthers High School, Wildcats | Leave a response