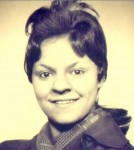 CAMPBELL – Funeral services were Monday, Jan. 20, at the Wasko Funeral Home with the Rev. Juan Rivera officiating for Maria R. Miranda, 64, who passed away Wednesday morning, Jan. 15, 2014, at The Ohio State University Hospital.
Maria was born Sept. 3, 1949, in San Juan, Puerto Rico, the daughter of Maria Nellie Viera-Sanchez and Avelado Sanchez and her stepfather, Gilberto S. Colon, who raised her.
Maria moved to this area from New York 38 years ago, and she worked as a professional printer in the area.
She was a member of the New Life Church in Poland.
She leaves to cherish her memory her husband, Luis Miranda, whom she married July 8, 1967; two daughters, Barbara (Luis) Miranda-Irizarry of Columbus and Chaunet Miranda of Boardman; one son, Anthony (Lisa) Miranda of Campbell; a sister, Carmen (Bobby) Valle of New York; seven granddaughters; three great-grandchildren; and a host of nieces, nephews, cousins, aunts and uncles.
She was preceded in death by her parents, Maria, Avelado and Gilberto; and a brother, Arnold Sanchez.
The Miranda family received friends Monday morning, Jan. 20, at the funeral home.
Visit waskofamily.com to view this obituary and send Maria's family condolences.